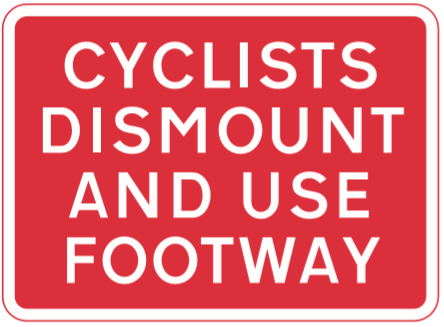 You must ensure suitable provisions are made for the safety of cyclists passing or crossing the works. Particular care is needed where cycle lanes or cycle tracks are affected by street works or road works because these routes may be especially popular with cyclists.
Cyclists might have to use other parts of the carriageway, a temporary cycle track, or an alternative route. You should consider whether access on the carriageway can be preserved for cyclists, even if it needs to be closed to motor vehicles. See the Traffic control by road closure section of this Code. Where the carriageway is closed but the footway remains open, a 'Cyclists dismount and use footway' white-on-red temporary sign can be used. Your supervisor, manager or other competent person may need to discuss these alternatives with the highway authority.
When shuttle working with traffic control is needed, you need to refer to the table of unobstructed road widths past the works set out in the Traffic control section of this Code in order to help prevent unsafe conditions for cyclists. When portable traffic signals are used, bear in mind when setting the timings that cyclists might take longer than motor vehicles to clear the controlled section.
A cycle lane marked with a solid white line will have been created by means of a Traffic Regulation Order. Where one of these is affected by planned works, your supervisor, manager or other competent person will need to discuss the situation with the highway authority well before work starts because it may be necessary to obtain the appropriate consent to suspend the cycle lane. Consent is not required in advance for emergency works, but must be applied for retrospectively at the earliest opportunity after commencement.