On occasions, activities are required in the carriageway or footway that temporarily restrict or prevent the free passage of road users past the works, or reduce the width of carriageway to less than 2.5 metres. Such activities include the collection and delivery of materials. In some circumstances it is not possible or practical to provide an alternative route because of widths or other factors, or to apply a full Road Closure. A 'Stop – works' sign or 'Temporary obstruction 15 minutes delay' sign may be appropriate in these situations.
Traffic control by 'Stop – works' sign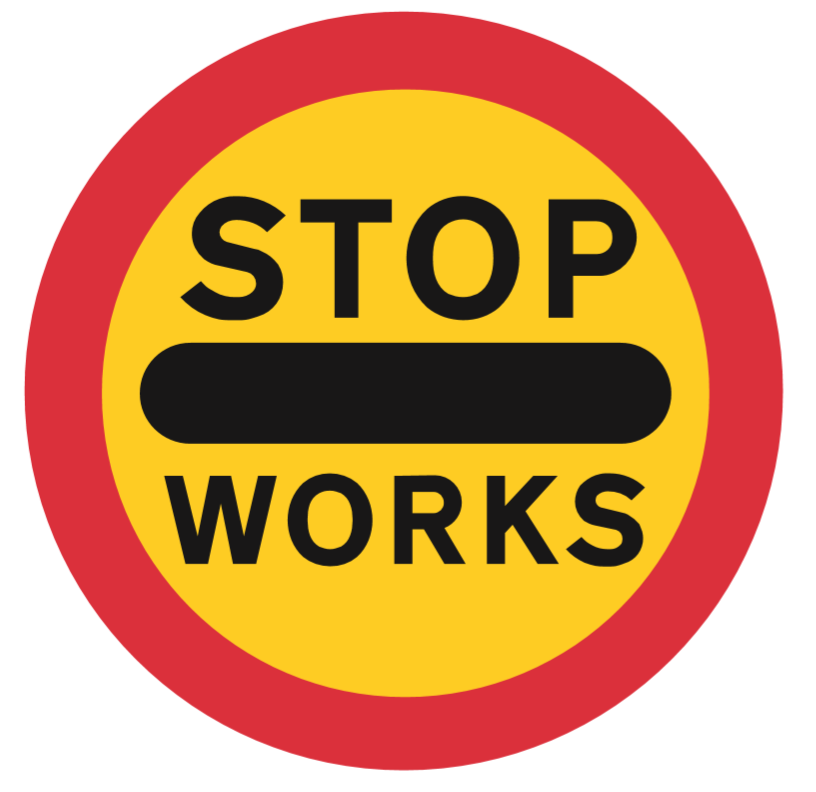 The 'Stop – works' sign can only be used to stop vehicular traffic for short periods during works on or near a road. Each period of use can last no more than 2 minutes in any 15 minutes. This sign must not be used as a substitute for other forms of traffic control and must only be used at sites where the risk is assessed as being low.
The sign must be double-sided, mounted on a black/yellow banded pole and held by the operator, who must be wearing high visibility clothing (see page 93). This sign should not be used at night unless directly illuminated. Illumination must be uniform across the sign face. Partial illumination is not permitted, nor is intermittent illumination. Two 'Stop – works' signs may be required in circumstances such as manoeuvring plant or works vehicles.
You can only use the 'Stop – works' sign when the road is single carriageway and the minimum clear visibility for drivers to the sign is:
60 metres for speed limits of 40 mph or less;
75 metres for speed limits of 50 mph or more.
'Traffic control ahead' signs must be positioned on both approaches when any of the following conditions apply:
the two-way traffic is greater than 20 vehicles counted over 3 minutes (400 veh/h); or
bends in the road or other obstructions affect visibility; or
the speed limit is 50 mph or more.
See table inside back cover for the siting distances for these signs.
Traffic control by 'Temporary obstruction' sign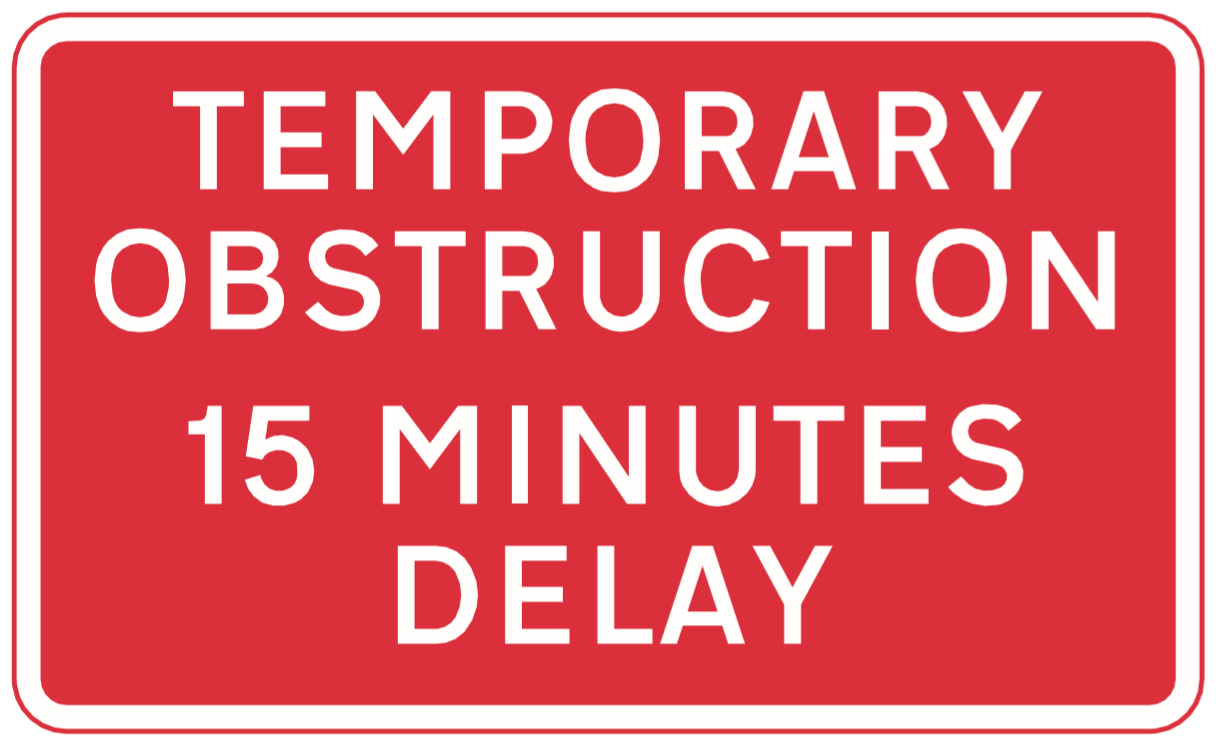 This sign may be placed in advance of the works if all the following apply:
no alternative method of operation is practicable;
other forms of temporary traffic management are not practicable;
the highway authority is notified in advance and agrees to the expected use of this measure;
traffic is delayed for no more than 15 minutes at any one time, and there is at least one hour between such delays;
the 'Temporary obstruction' sign is placed within sight of the obstruction; and
the activities and the method of operation are such that operatives can reopen the road immediately for emergency purposes or on request from an appropriate authority.
Warning: This measure should only be used after consultation with your supervisor, manager or other competent person and an on-site risk assessment has been undertaken. It is an offence under section 137 Highways Act 1980 to obstruct the highway without lawful excuse.
Temporary traffic regulation orders, temporary traffic regulation notices or temporary traffic regulations (as appropriate) are required to temporarily obstruct roads in Scotland, Wales and Northern Ireland.